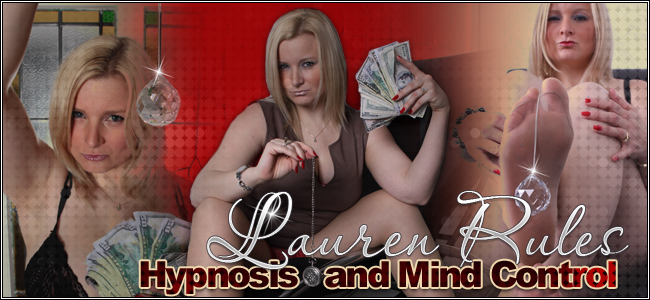 I am not your typical FemDomme hypnotist.
I will not be claiming to be a certified hypnotist (not yet anyway), and some Erotic Hypnosis Purists probably won't be happy with what I do.  I find long "hypnosis sessions" to be tedious and draining. (Although I can do them, and sometimes will if I am in the mood)  These methods are "overt" (that is the subject knows they are happening).  Perhaps that's why they are not My preference.  I think covert methods are much sexier! (Or semi-covert methods, in which you are told you will be exposed to hypnotic techniques, but not taking you through a traditional induction)
I have been told (even by purists) that I am a "natural" at hypnosis.  Intuitively, I know how to pace a session and use My erotic voice to lull you into an obedient and submissive state.  This lends itself to the covert techniques that I prefer to use.
My powerful and covert hypnotic techniques cause you to become profoundly addicted to Me and how I make you feel. I use selected photographs during Pay Mail sessions that increase your vulnerability
I use these techniques to turn you into the kind of slave that *I* want, they are part of your training. I combine hypnotic techniques with other training methods to turn you into a completely subservient and obedient slave to Me!
Mind Control is a tool to obtain what I want, not the solitary goal.
Learn more by checking out My Niteflirt Profile
Lauren Rules and Hypnotizes on Niteflirt
Or simply dive right in and try this Hypnotic Pay Mail Series
A dangerous combination of mp3s and photos. This series will demonstrate that you are indeed My hypnotized money slave

$15