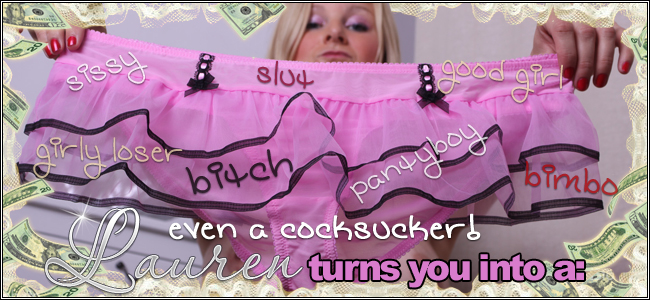 Sissification is a common result of a submissive man serving a Dominant Woman
A natural path, an acknowledgement of the sissy's weakness and the FemDomme's superiority.
Some of you will have this inclination or experience before you even contact Me for the first time, others will gradually aquire feminine traits.
Others of you I will covertly feminize, eroticizing your experiences with Me to make that goal become desirable, and you will do it to please Me.
Others will be forced into sissification, coerced through covert means or by cock control to submit to this humiliation.
In their shame, they will become aroused at their new role, and an erotic trap will be born.
I am an expert in leading you down a path you had no intention of going, with your cock hard the whole time.
This could be one of those paths.
Learn more by visiting My Feminization Listing on Niteflirt
Sissy Training by Lauren Rules on Niteflirt

And here are Pay to Views of Special Interest to Sissies
Sissy assignment! Best for sissies with a few girly possessions. How brave are you?

$12




This is a recording and text that will help transform you from the inside to female. It uses hypnotic techniques to facilitate your transformation!

$15

Enter Sissy Prep School! All the forms and applications you need to begin!

$15

Begin your transformation to being an elegant sissy debutante!

$15

A dress up assignment for sissies! You'll get to practice as much as you want, nothing to buy (other than this PTV!)

$15

A two part really hot Forced Feminization story, I wrote it Myself for all you girls! You'll get to glimpse into My cruel mind.

$15